Reinhard Bonnke Preaches for the Last Time in Africa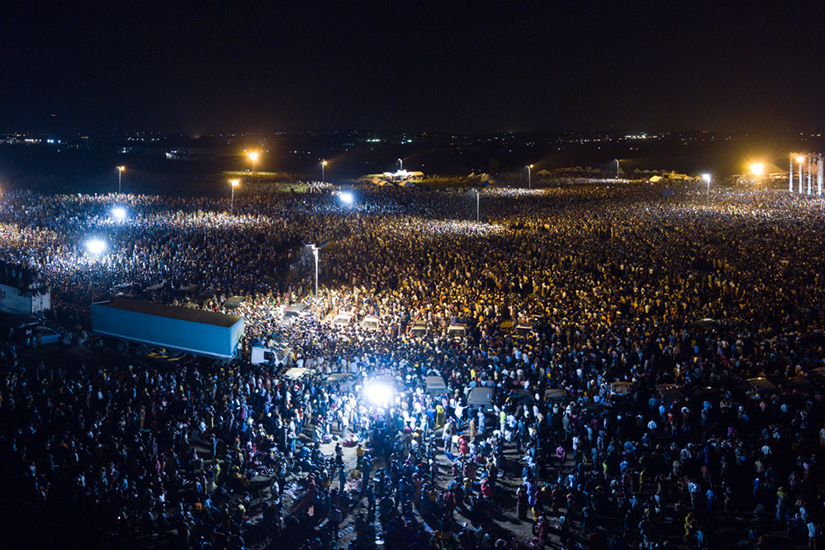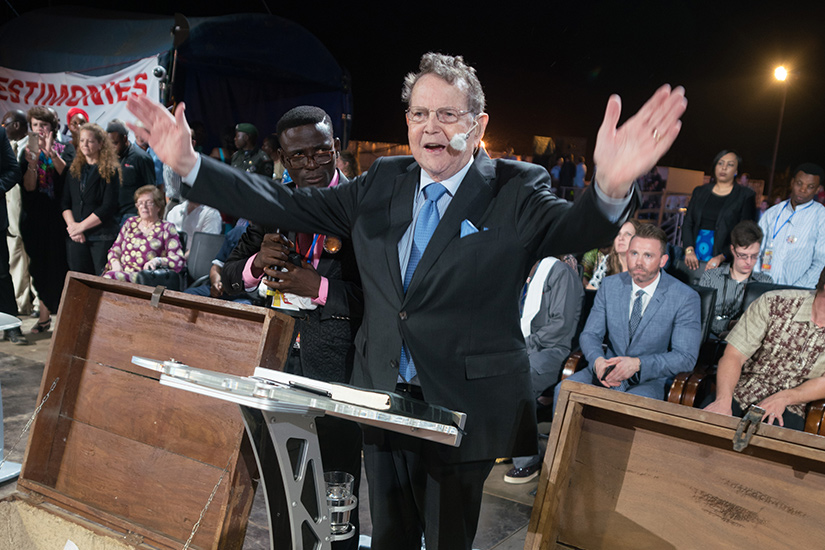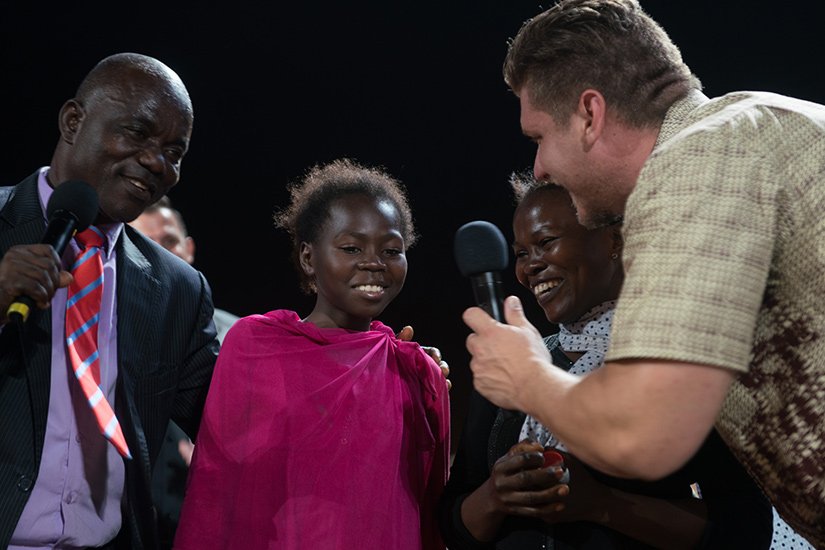 We have just returned from a very special and very emotional service. Tonight, Evangelist Reinhard Bonnke preached the Gospel for the last time on African soil after 50 years of powerful ministry. His wife, Anni and his children were with him on the platform. Our national directors and many ministry friends from all over the world were there to be a part of the historic moment. More than 1.7 million people attended the five days of meetings. Countless miracles took place and many thousands of salvations were recorded. I cannot imagine a more fitting way to celebrate 50 years of Evangelist Bonnke's ministry than with one more massive harvest of souls in Africa. It was truly a remarkable and historic event. It will stand out in my memory as one of the most precious days in my life.
We faced an unusual level of resistance this week – such as I have not experienced in my time with the ministry. But the Lord spoke to us clearly that what we were experiencing was birthing pangs. Although this crusade was Evangelist Bonnke's Farewell in Africa, it is really just the beginning of something new and wonderful. God has given me the vision for a "Decade of Double Harvest." I believe that over the next decade, we will see another 75-million people won to Christ and tonight was the beginning. No wonder we are feeling the pangs of birth. I will share more specifics on this in the days to come, but for now it is enough to say we are on the threshold of "even greater" things. As Evangelist Bonnke has often said, "Nothing diminishes in God."
This also marks the last crusade of the year. As we approach the end of one year and the beginning of another, I am so thankful for those of you that have stood with us so faithfully through your prayers and giving. Please continue to stand with us as we enter this new season of harvest. All hands are needed on deck. The best is yet to come. We love and appreciate each one of you.
Yours in the Gospel,
Evangelist Daniel Kolenda
Together with Reinhard Bonnke, Peter Vandenberg, and the whole CfaN Team
Saturday - Livestream - Lagos, Nigeria
Below, you can watch the momentous, final Fire Conference meeting where Evangelist Reinhard Bonnke passes the torch to Evangelist Daniel Kolenda, to all those in attendance and to you. Below that is the powerful Saturday evening service where Evangelist Daniel Kolenda preaches the Gospel and Reinhard Bonnke prays for the baptism of the Holy Spirit for the entire crowd.
Night of Deliverance - Lagos, Nigeria
Watch the second day of the powerful Fire Conference and the third evening meeting, where Evangelist Daniel Kolenda preaches the Gospel and then prays over the crowd for deliverance and healing!
Honor and Outpouring - Lagos, Nigeria
Highlights from the second day of the Reinhard Bonnke Farewell Crusade in Lagos, Nigeria including: the start of the Fire Conference, special presentation to Reinhard and Anni Bonnke, and the preaching of the Gospel by Evangelist Daniel Kolenda.
Day 2 - Thursday Night Meeting with Evangelist Reinhard Bonnke and Evangelist Daniel Kolenda
Evangelist Bonnke's Farewell Crusade Begins - Lagos, Nigeria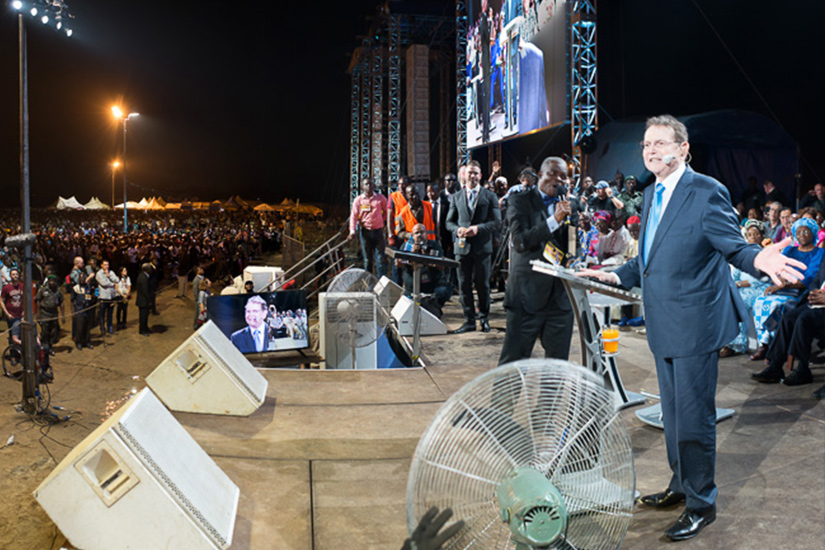 We just returned from the first meeting of the Reinhard Bonnke Farewell Crusade here in Lagos, Nigeria. Hundreds of the top spiritual leaders from all over Africa are present as well as nearly 400 international guests that have come with our group. It truly is a historic moment as we celebrate 50 years of Evangelist Bonnke's ministry in Africa. We look forward to many more years of Gospel impact here and around the world as a ministry.
Tonight, Evangelist Bonnke preached a powerful and clear evangelistic message. It was such a joy to hear him preach the Gospel on African soil again. Many thousands responded to the invitation and many were healed. Services were broadcast across the nation and around the world on social media as well as many Christian Television outlets.
We need your prayers this week. In meetings this size, everything is being stretched to the limit. There are many challenges including a very wet and swampy field. Please pray that the rain would not fall on that ground anymore this week. Also, please pray for protection for our large group, an outpouring of notable miracles, and a massive harvest of souls.
Although this crusade is Evangelist Bonnke's final African crusade, it is only the beginning of what I believe will be a decade of super massive harvests for Christ for all Nations. The Lord has given me the word of a "Decade of Double Harvest." Now it begins. The best is yet to come!
Yours in the Gospel,
Evangelist Daniel Kolenda
Together with Reinhard Bonnke and the whole CfaN team
Decade of Double Harvest
In 1987 we first began counting our individually signed, salvation-decision cards and, to date, we have reached OVER 76+ MILLION SOULS! That's three decades of ministry averaging 25 million souls per 10-year span and we've been praising the Lord and giving Him all the glory.
Now, the Holy Spirit has clearly communicated and confirmed something exciting, amazing and challenging for Christ for all Nation's future. The Lord has now commissioned us to mark the next 10 years as the "Decade of Double Harvest" and move forward to 150 MILLION SOULS saved.
In other words, we want to double the 75 million and reach that many more souls in the next 10 years and match what we've seen in the first 30.
We are "Doubling Down" on soul-winning! To "Double Down" means to become even MORE tenacious, MORE zealous, and MORE resolute in an undertaking.
This Decade of Double Harvest will affect every part of this ministry and there will be many, crucial and impacting ways you can be involved. As we continue to seek the Lord, we are making plans, setting goals, and detailing all of the ways you can join with us! Moving forward with this vision will require us to lay the groundwork now with: commitments, budgets and resources that we just don't have in hand. But we need to begin now.
Please ask the Lord what He would have you to do today to sow a "Decade of Double Harvest" Seed into the soil of this commission!
Reaching More Souls Together With you,
The Christ for all Nations Ministry Team
Lagos, Nigeria
Lagos means "lakes" in Portuguese, and is the most populous city in Nigeria. Lagos is also the second fast-growing city in Africa. Originally inhabited by the Awori, a subgroup of the Yoruba people, Lagos derived its name from a Portuguese explorer in the 15th century. Lagos was the capital city of Nigeria from 1914- 1991.
People
Lagos was originally inhabited by the Awori group of the Yoruba people. Today, it has a very diverse population due to heavy migration from other parts of Nigeria and surrounding countries. The Yoruba are the dominant ethnic group. There are more than 250 ethnic groups represented in Lagos, however, including the Hausa, Igbo, and Fulani. Small minorities of American, British, East Indian, Chinese, white Zimbabwean, Greek, Syrian, Lebanese and Japanese are also present in the city.
Land and Climate
Lagos Mainland districts include Ebute-Meta, Surulere, Yaba (location of the University of Lagos) and Ikeja, site of Murtala Muhammed International Airport and capital of Lagos State. Greater Lagos includes Mushin, Maryland, Somolu, Oshodi, Oworonsoki, Isolo, Ikotun, Agege, Iju Ishaga, Egbeda, Ketu, Bariga, Ipaja, Ajah and Ejigbo. The city of Lagos is the main city of the south-western part of Nigeria. Some rivers, like Badagry Creek, flow parallel to the coast for some distance before exiting through the sand bars to the sea. The two major urban islands of Lagos in Lagos Lagoon are Lagos Island and Victoria Island. The average temperatures in Lagos in November are a high of 31 °C (88 °F) and a low of 23 °C (73 °F)
Economy
Lagos is the center of commercial and financial business for all of Nigeria. Oil and petroleum are the main sources of income for foreign exchange, and the Port of Lagos is one of the largest and busiest in all of Africa.
Sources: https://lagosstate.gov.ng/about-lagos/ http://worldpopulationreview.com/world-cities/lagos-population/